</P>
Fluid Inclusion Technologies, Inc.

Innovations in Petroleum Risk Management

FIT announces "The New Well Logs"

Fluid Inclusion Technologies (FIT) is a new petroleum industry service organization specializing in the analysis of drill cuttings, core and outcrop samples to solve petroleum E&P problems. Fluid Inclusion Stratigraphy (FIS), our main product, is a patented analytical technique, involving the automated analysis of oil and gas components trapped as fluid inclusions (micron-sized, crystallographically isolated cavities) in rock material. The new FIS procedures yield valuable information on:
Past and present subsurface petroleum distribution, including: pay, bypassed- pay and proximal undrilled pay
Product type and quality
Petroleum migration and reservoir filling processes
Seal integrity
Fluid pressure compartments
Petroleum-water transition zones
Reservoir compartmentalization and connectivity
The strength of the FIS approach is that fluid inclusions are representative samples of subsurface fluids (including light-end hydrocarbons); they experience minimal fractionation during sampling and no evaporative loss during sample storage - regardless of how long. Much of the above information is unattainable via more traditional methods and, over the past ten years as a proprietary technology within Amoco, FIS has been instrumental in the discovery of significant petroleum reserves, influenced exploration and acreage acquisition decisions and provided innovative options for resource estimation, petroleum production and enhanced oil recovery operations.
An equally impressive aspect of FIS technology is the rapid turnaround time: 1- 2 weeks for full-well analyses (up to 575 samples); multiple well studies can generally be completed within 1-2 months. The results can then be electronically delivered virtually anywhere in the world in a matter of minutes, or as hard-copy reports via courier in a few days. Thus, FIT Analyses can play a crucial role in decision making regarding current plays as well as provide valuable new insights through the analysis of archived cuttings.
Please see http://www.fittulsa.com/examples.html to examine sample FIT Analyses, and for further details about this innovative new technology, visit our home page at http://www.fittulsa. com.
Sincerely,
Drs. Donald L. Hall & S. Michael Sterner
Fluid Inclusion Technologies, Inc.
2217 N. Yellowood Avenue, Broken Arrow, OK 74012 U.S.A.
FIT Analysis of a Well Penetrating the Tertiary Section of Southern Louisiana (see below) documents three main features: 1) a shallow condensate to volatile- oil compartment (green), 2) an intermediate zone dominated by low molecular weight hydrocarbons (red) and proximal pay indicators (red and blue), and 3) a deep, prolific gas-condensate pay zone capped by an effective seal (red, green, blue and black). An association, recognized in producing fields, of shallow "seep" signatures recorded by FIS analysis with pressure compartments and deeper pay has proven highly effective in focusing exploration activities on areas of deeper accumulations from analysis of shallow borings. Data are taken from an actual well analysis.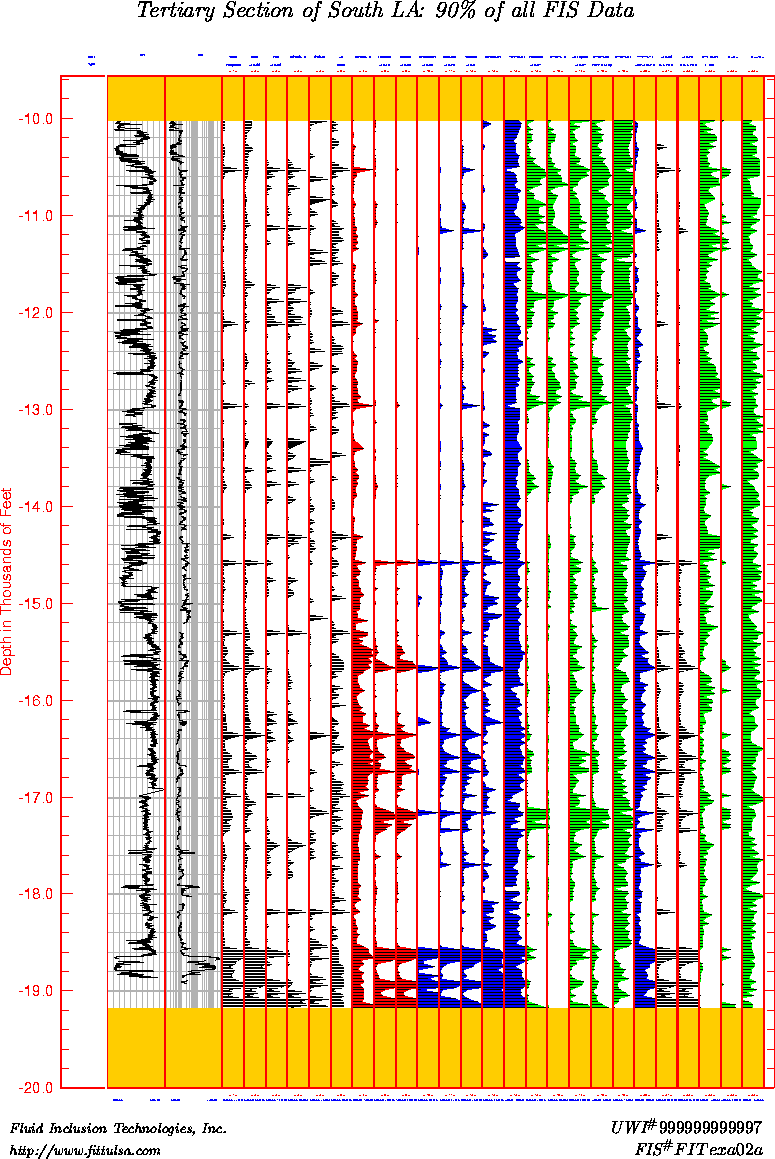 For additional information contact
Sean Emel at s.emel@continental-labs.ab.ca
Continental Laboratories Ltd. Home Page
3601A 21st Street N.E.
Calgary, Alberta Canada
(403) 250-5125
Fax (403) 291-9556
Copyright © Continental Laboratories Ltd.. All rights reserved ( Legal Notice )
Technical Papers Corporate Profile Well Log Library Geoprint Software Links
Services Fluid Inclusion Analysis
This page last updated on October 13, 2005